I love SITS, I have met some of the most amazing bloggers through those Saucy Girls. Not the least of whom is Rhea, over at Texas Word Tangle. This girl is awesome! She is one of those daily visits that you just can't wait to read. I was honored when she asked me to design a decal for her vehicle around her blog.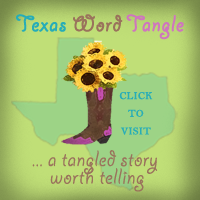 Rhea was terrific to work with and was so kind to blog about her custom decal. Through this amazing chick, I met Jen over at Buried With Children and created a custom decal for her van, overflowing with kiddos!
I love custom work, be it vinyl or embroidery! Have an idea? Email me, and let's make your idea reality!
Check out Rhea's mommy-mobile:
Thanks Rhea, for making my job so much fun! Hope you love your decal!