Ok folks, this is a BIG ONE. Tell all your friends, shout it from the rooftops, but don't forget to enter!
Monogram Chick is
giving away
a
backpack
AND
lunchbox
! That's right--we're going back to school in style and a preppy monorammed backpack with matching personalized lunchbox is just the way to do it.
You know the drill, it's simple really. Go to
Monogram Chick
. Pick your favorite
backpack/lunchbox
design, and enter by posting a comment including the set you'd choose if you were to win. Then, check back on Wednesday, August 12th to see if you won. Could it be any easier?
But wait, it get's better....if you're a blogger and you add this Freebie to your blog, sending masses of entries that mention you, Y-O-U win a
lunchbox
too! Isn't that great? The more you send the better your chances of winning.
Stop. Hold the phones. It get's
even better
! The
blogger
who
refers the most entries
wins
too
! If you're the blogger that refers the most commenters you win a
personalized pencil pouch
. Wow, is the Chick feeling generous or what!?!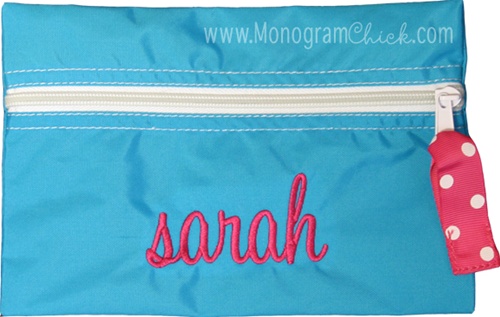 Good Luck everyone!
Bloggers--feel free to grab this image for your blog.